Free shipping on order over $59
Tahiti Island Fashion Bath Set Tote
Regular price

$72.99

Sale price

$41.99
Transform your bath-time with our Tahiti Island Fashion Bath Set Tote! Formulated with nourishing Shea Butter, Sunflower Seed Oil and Vitamin E, it's a luxurious 15-piece spa set that'll keep your skin soft and hydrated. Infused with tea tree essential oil to soothe body + mind, and the vibrant fragrance will have you dreaming of Tahiti. Comes in a beautiful handmade burlap and oxford fabric tote - perfect for taking shopping or to work! Pamper yourself with these special spa gifts for women!
Fragrance

Tahiti Island
Top Notes: Blackcurrant, Round Grapefruit, Melon Fruity, Sea Breeze
Middle Notes: Tea, Lily of the Valley, Jasmine
Base Notes: Ambergris, Excessive Fragrance
What's Inside

Set Contains:
Shower Gel(235ml)
Bubble Bath(235ml)
Bath Salt(200g)
Body Butter(105ml)
Hand Cream(100ml)
Body Lotion(100ml)
Essential Oil(15ml)
Shampoo Bar(50g)
2*Bath Bombs
Hair Drying Towel
Body Brush
Pouf Sponge
6*Soap Petals
Handmade Tote Bag

Ingredients:
Shower Gel: Glycerin/Coconut Oil/Vitamin-E/Sunflower Oil/Shea Butter
Bubble Bath: Glycerin/Coconut Oil/Vitamin-E/Sunflower Oil/Shea Butter
Body Butter: Shea Butter
Hand Cream: Shea Butter
Body Lotion: Shea Butter
Essential Oil: Jojoba Oil/Jojoba Extract
Shampoo Bar: Glycerin/Coconut Oil
Soap Petals: Glycerin
More Info

Nourishing Ingredients: This luxury 15pcs spa set is formulated with moisturizing ingredients like Shea Butter, Sunflower Seed Oil and Vitamin E that provide an intense and long-lasting moisture to treat dry skin.

Essential Oils: The spa gift basket is infused with tea tree essential oil that soothes the body and mind and promotes overall health. The refreshing fragrance will bring you to the passionate and energetic island of Tahiti.

Beautiful Handmade Gift Bag: Our beautiful handmade gift bag of bath products is made of durable burlap and oxford fabric. The tote bag can be used in many different ways such as storing small items when you go shopping or go to work.

Special Spa Gifts for Women: Our beautiful packaging and high-quality bath and body daily care products are the perfect gift for mother, girlfriend. It is a unique gift for Christmas, Thanksgiving, Valentine's Day.
Share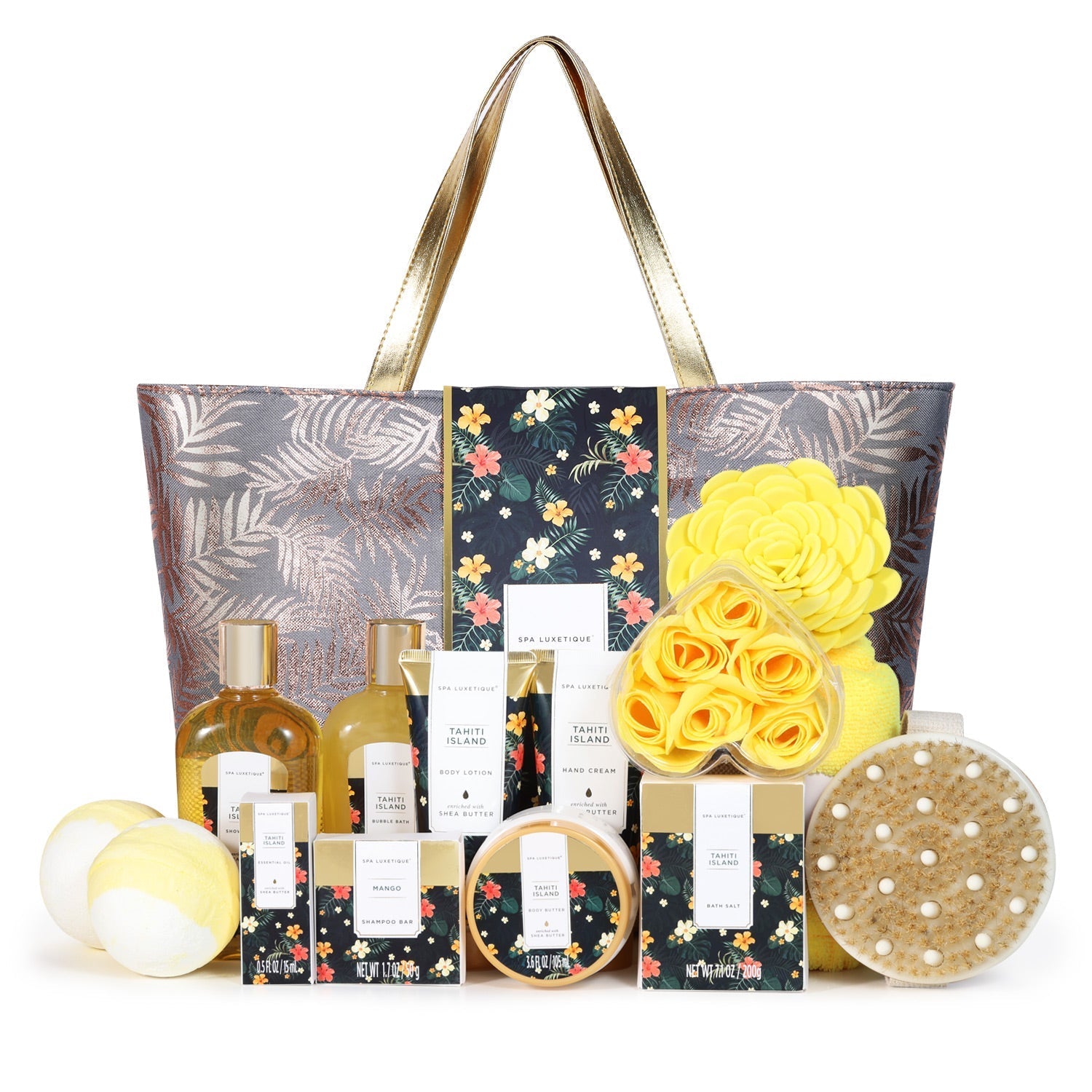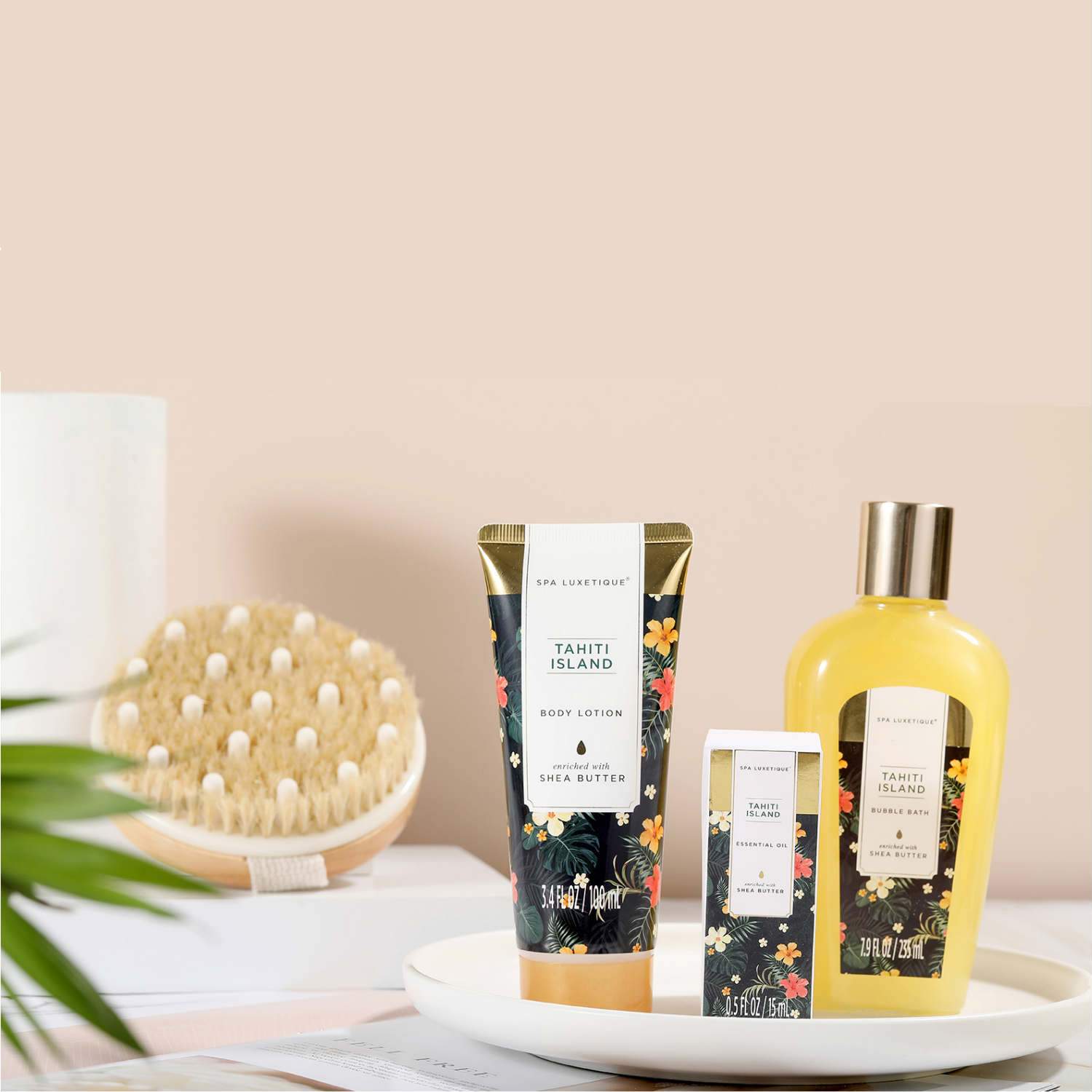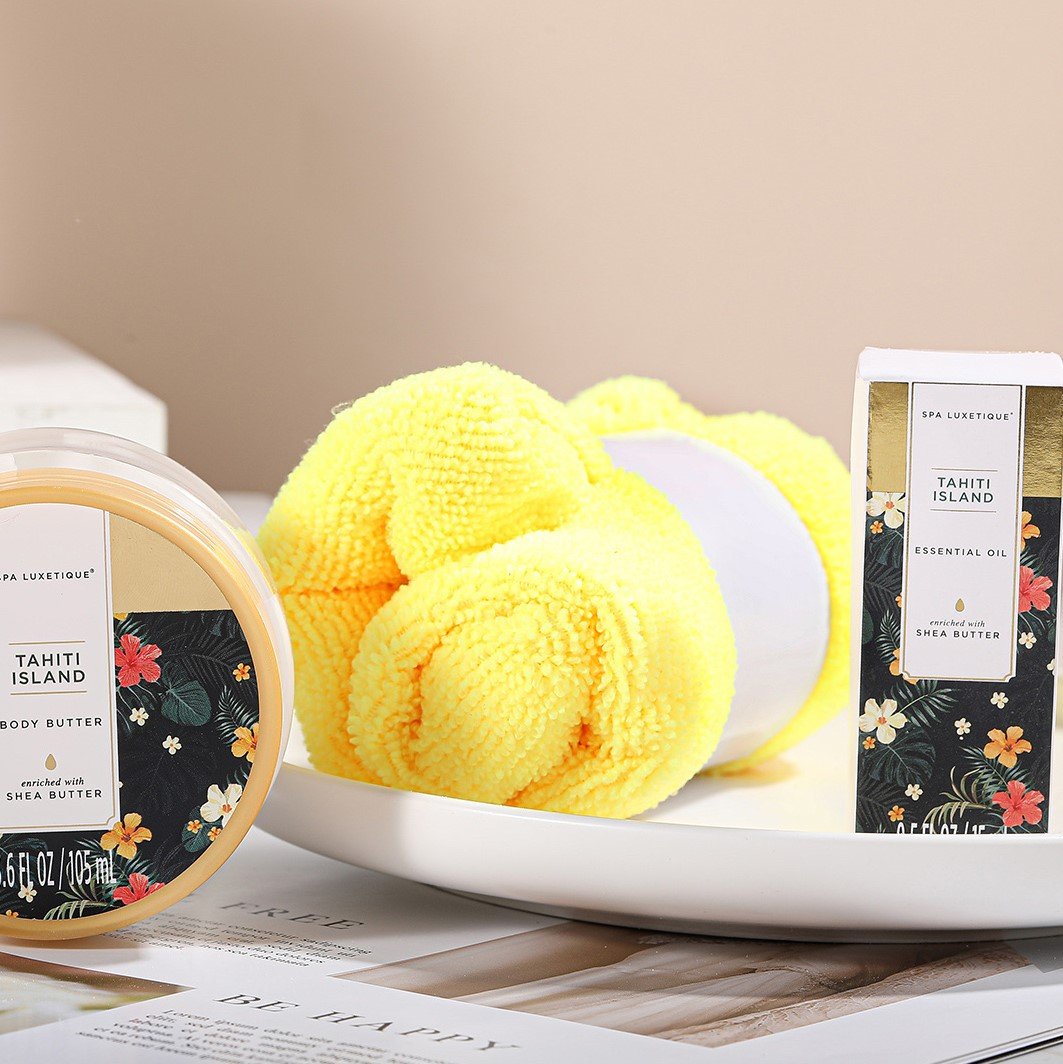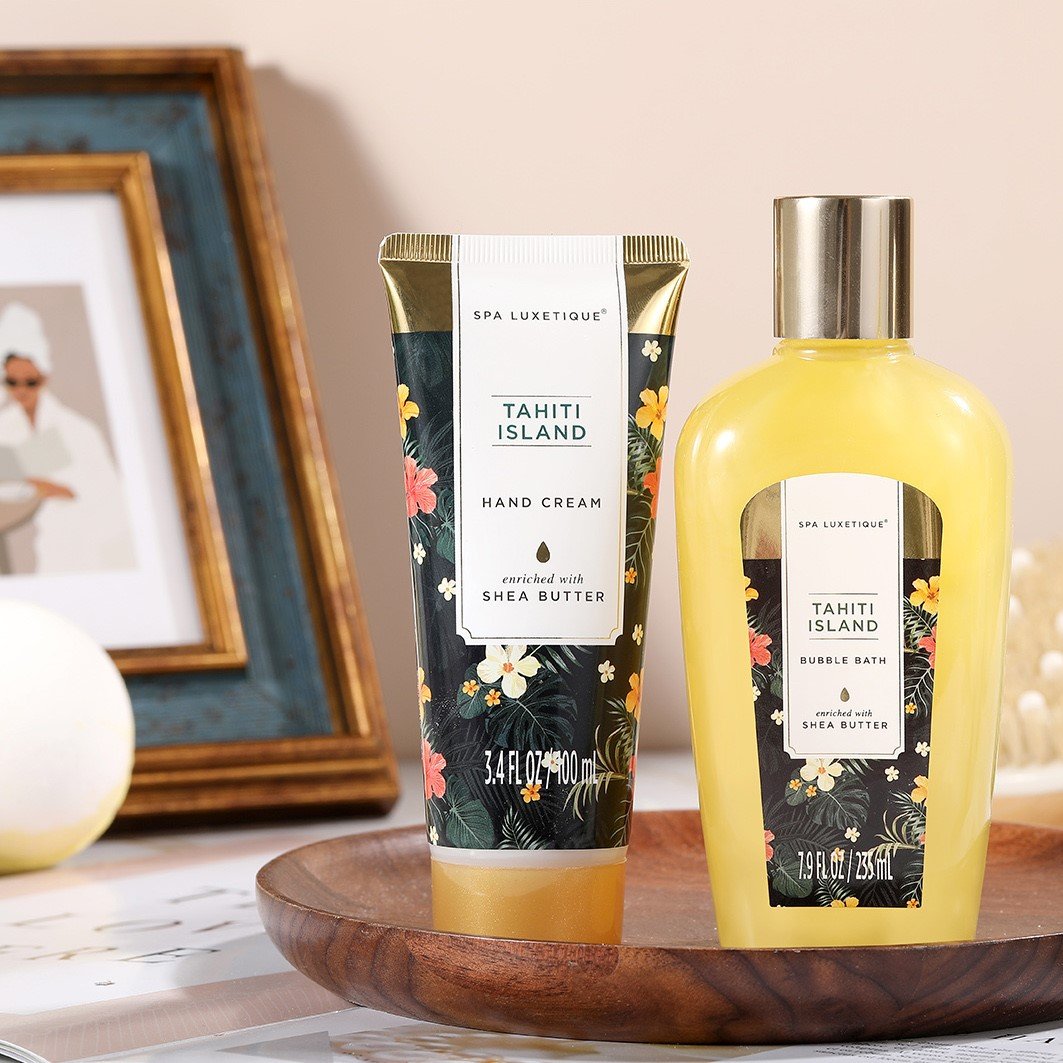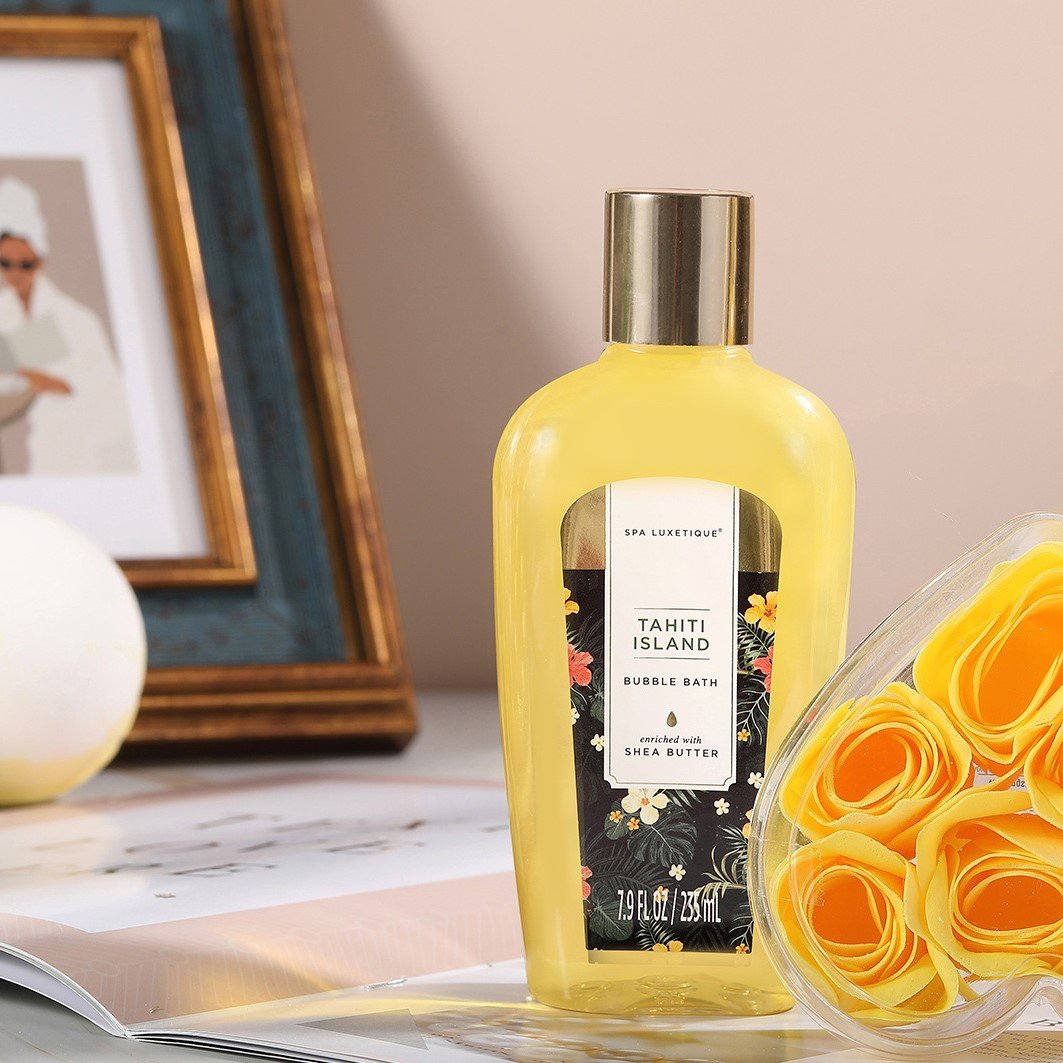 FAQs
HOW CAN I TRACK MY ORDER?

Once your order is placed, an email confirmation will be swiftly on its way to your inbox, accompanied by the tracking details, which will be sent to the email associated with your account.
What is your return policy?

If you are unsatisfied, you may return any unopened/undamaged product within 30 days from receiving the merchandise.

For any questions, email: support@bodyandearth.com
What is the expected processing and shipping time for orders?

We ensure swift order processing, usually within 1-2 business days. With our standard shipping option, you can anticipate delivery in 2-4 business days. Opt for our expedited shipping for even faster delivery, taking just 1-2 business days. Your order's prompt journey to your doorstep is our priority.